Ruby Tuesday, Inc. is a leading company in the bar-and-grill category of the U.S. casual dining restaurant industry. From its original location in Knoxville, Tennessee, the Ruby Tuesday chain has grown to more than 700 units in about 40 states primarily in the Southeast, Northeast, Mid-Atlantic, and Midwest. Nearly 500 of the outlets are company owned with the remainder being franchised. Entrees, ranging in price from $6.49 to $16.99, include ribs, chicken, steak, seafood, pasta, burgers, and sandwiches, and the menu also features soups, a salad bar, and desserts. The restaurants also offer food for carry-out via the company's "curb-side to-go" initiative. Ruby Tuesday's relatively small but expanding international operations include about three dozen franchised restaurants in about a dozen countries.

Margarita Magnifico

1.5 oz1800 Reposado Tequila
.5 oz Grand Marnier
4 oz. Margarita Mix
.25 oz Lime Juice

Glass: Chilled Martini Glass
Technique: Shake & Strain
Rimmer: Salt Rim (Optional)
Shaker: Yes
Garnish: Lime Wedge

For blue margaritas and MEGARitas, replace the Triple Sec liqueur with Blue
Curacao.



MEGARita Magnifico

3 oz 1800 Reposado Tequila
1 oz Triple Sec
10 oz Margarita Mix
1 oz Grand Marnier (float)
.25 oz Lime Juice

Glass: 32 oz Weiss Goblet
Technique: Tumble
Rimmer: Salt Rim (Optional)
Shaker: No
Garnish: Lime Wedge
Consumers named
Cheesecake Factory
their favorite casual dining restaurant in a survey that Market Force, the customer intelligence solutions firm, released last month. Market Force polled more than 1,600 consumers to learn their takes on casual restaurants in five different categories: breakfast, steak, Italian, seafood, and general menu.
Survey respondents ranked chains by considering service, food quality, and value.
Cracker Barrel
topped the ranks on service, while consumers pointed to
Red Robin
as the most kid friendly restaurant. Other runners up to Cheesecake Factory in the general menu category were
Ruby
Tuesday
,
Buffalo Wild Wings
, and
Chili's
.
Offering good value and having good specials also piqued consumers' interest.
TGI Friday's
topped the chart for presenting good value for the money, while survey takers nodded to
Chili's
as the best casual dining restaurant when it comes to value, promotions, and coupons.
Rounding out the favorites were
Maggiano's
(
Italian restaurant
)
The Capital Grille
(
favorite steakhouse
)
Pappadeux
(
favorite seafood restaurant
)
Mimi's
(
favorite breakfast restaurant
)
Ruby Tuesday has offered a variety of flatbreads on the menu
BBQ Chicken Flatbread - Crispy crust with BBQ chicken, red onions, fresh cilantro, and smoky cheddar cheese.
California Chicken Flatbread
4 Cheese Bianca Flatbread
6 Cheese and Tomato Flatbread - Crispy crust topped with tomato basil sauce and a six cheese Italian blend.
Black and Blue Flatbread
Shrimp Po Bo Flatbread - Fried Popcorn Shrimp, Parmesan cream sauce, and a spicy blend of green peppers, onions, mushrooms, bacon, and andouille sausage. All topped with a drizzle of creamy chipotle sauce.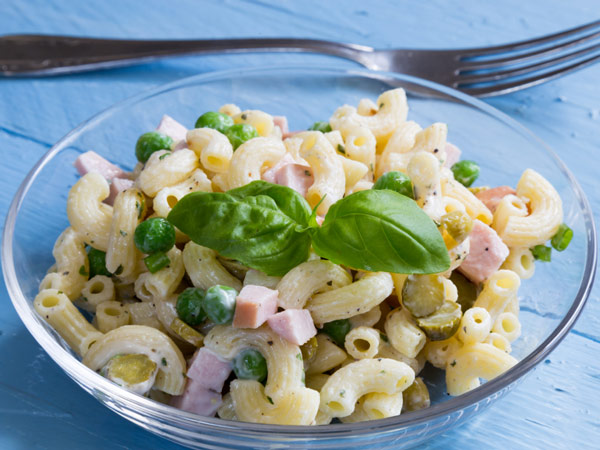 MACCARONI SALAD
Ruby Tuesday Copycat Recipe
Salad
8 ounces macaroni, cooked and drained
8 ounces ham, 1/4 inch cubed, about 2 cups
8 ounces sharp cheddar cheese, 1/4 inch cubed
1 (10-oz.) package frozen peas, cooked and drained
Dressing
3/4 cup sour cream
3/4 cup mayonnaise (not salad dressing)
1/4 cup lemon juice
1/2 cup grated Parmesan or Romano cheese
2 teaspoons dried tarragon
1/2 teaspoon kosher salt
1/2 teaspoon freshly ground black pepper
Combine all the salad ingredients in a big bowl. In a smaller bowl, mix the dressing ingredients. Pour the dressing over the macaroni mix and toss to blend well. Cover and refrigerate several hours or overnight.
MEDITERRANEAN PASTA SALAD
Ruby Tuesday Copycat Recipe
Serves 4-6
Salad
1 lb pasta (
linguine, farfalle, penne, your choice
)
1 1/2 cups chopped fresh spinach
1 cup julienne red onions
1/2 cup black olives, chopped
3/4 cup medium dice roasted red peppers
1/2 cup feta cheese crumbles
1/4 cup grated fresh Parmesan cheese
Dressing
3/4 cup olive oil
1/4 cup basil pesto
3 tablespoons chopped fresh parsley (
for garnish
)
Cook pasta according to pkg directions; drain. Place spinach, red onions and olives in a mixing bowl. Add the pasta, red peppers, feta and Parmesan.
In a separate bowl, combine the oil and pesto and whisk until you have a smooth, consistent texture for the dressing. Fold this dressing with the salad ingredients gently to ensure all items are well incorporated. Garnish with parsley to serve.